I think I have cheated on
Bessie
and I am not ashamed! About a week ago, I put a deposit on a table with cane back chairs I found on Craigslist from a consignment store. I wasn't in love per say with the table but the chairs said hello, you must buy me. So I needed to hold it until the following (this) week and I will probably lose my deposit but it was worth it. Note to self: Listen to pleads of daughter and boyfriend to not buy things on impulse. But the plan was to always buy a farmhouse table later on down the road since I found this inspiration photo on
Pinterest
from
iheartshabbychic
.
I am one of the most indecisive person you will ever meet. I have gone from a round table to a modern farmhouse table fail via
Ana White
(my fault, not her designs - she's great), to everything in between to finally end up on this vision.
Well let's just say later down the road turned to yesterday. I was searching Craigslist (yea, I know I have a sick addiction) and I found this lovely beauty for $50.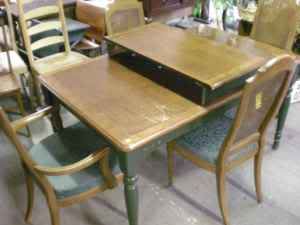 Craigslist
Yes, I know deposit on the other table but it was everything I wanted...well almost everything compared to table one I previously put on layaway. It still would be cheaper to lose the deposit and just buy this table then pay for the other one so the goods (dream table set) outweighed the bad(money for deposit).
So I instantly panicked, what if it was already bought, I mean the date said June 23rd and it was June 24th. Good things usually go fast on Craigslist. So I said, self you must leave work early and race to buy the table but luckily my trusty coworker talked me out of losing my 10 hours of overtime I racked up during the week. So then my idea light bulb went off. This listing was from a thrift store and said thrift store opens at 10am but it was still 9am so I double check the listing. They posted at 5:15pm, 45 minutes before closing time at 6 (based off of their website) so the likeliness that my precious dining room set was still there was very high.
So I called at 10am and was elated when the guy confirmed it was still there. But would it be there tomorrow, then the store worker said he could do a phone order. Really, are you serious? Now obviously you have to be very cautious these days and I did some research on the store and the phone numbers from the Craigslist ad matched the store's website and I felt comfortable doing the phone transaction. I know it's not everyone's cup of tea but my gut said it was right and well it made me very happy that I could secure my table.
He said I had about a week to pick up my precious. Bad thing is I drive a car. So I sucked up my pride and asked my mom to pick it up with me since she has a small Benz SUV and I have a Hybrid Camry (even less trunk space than the normal one). Now, don't' get me wrong, I love my mom and she seriously will do anything for me but when I bought my car she said I should get a SUV and I didn't. Yes mom, you were right for once. So she agreed and we went today to pick it up.
Honestly, I had my doubt as to wtf did you just buy a used table unseen or tested. But all my thoughts were pushed aside once I made it inside the thrift store. The table was sturdy (actually the legs come off so it can be reinforced easily), the cane back chairs were almost immaculate (one is a little loose but nothing major) and the table is solid WOOD. I just saw a farmhouse table yesterday that was a veneer top and very cheaply constructed. This one also has a drawer on end. Very lucky the legs came off for easy transport in my moms car. Wish the chairs were curvier and the legs were more ornate but I can't be too picky considering this was such a deal.
Now, I don't have any pictures tonight but I will try to take some tomorrow. I have inserted the leaf with all 4 chairs around the table and added my
bench
from the sunroom to the mix. To say I am love is such and understatement. I am like glowing from ear to ear at how amazing this is coming out and I haven't even started to refinish yet. I tried looking for some fabric today without luck. Then again, I don't know what I am really envisioning right now. I waiver in between something funky like this from
AllThingsThrifty
or do I play it safe but oh so amazing ala
MissMustardSeed
Not sure yet. Very excited to see where this goes.