Yay!!! Huge warning, this post is very pic heavy. Finally a post of my house that isn't my sunroom. So as I mentioned from my last post, I finally found my dream dining set on Craigslist from a thrift store about 30 minutes away. My loving mom happily obliged and help me transport the farmhouse table and four chairs. Now my inspiration was of this farmhouse table and round cane back chairs that I found on
Pinterest
.
So here is a photo of my dining room before I brought in my new table and cleaned up a bit.
The room has some off white floral wallpaper panels that were nailed to the wall. The walls have pretty much deteriorated and crumble once you remove the panels. Not looking forward to drywalling this room with all the cuts that will be necessary. The vents are exposed throughout the first floor since we were going to update the horrible electrical job from the house but lack of funds have prevented us to do so. Eventually, I want to knock down half the wall between dining room and kitchen so it's a bit more open.
My mom is probably would be cringing right now that I would show my dining room in this state but lucky for me she's not an internet person. So what you are looking at is a dog crate on the bottom left corner, our failed DIY Ana White Modern Farmhouse Table, chairs and a bench on top of failed table, vacuum in the back next to the buffet, 2 cabinets and my saxophone case to the right and a pile of junk in the right corner. We originally had an IKEA round pedestal table that I end up hating almost immediately. That currently resides in my mom's new house kitchen area. I then built the failed modern farmhouse table. It was actually perfectly fine and square until we forced the boards into the table. Needless to say, this warped the table and I am too lazy to figure out a solution to fix it so I just gave up. I secretly started to hate the table after completing it so this did help to sway my decision to find something new.
I inherited two of these cabinets from my grandmother when she moved in with my mom earlier this year. She got them from my mom a couple of years ago. This one doesn't have the doors attached cause I am working on updating the piece. I really don't anticipate using it for DVD storage but my boyfriend was cleaning up and stuck them in there for the time being.
The left side of the room has a chair next to the cage. The rotary phone on the wall is not even functional since we currently don't have a house phone. It came with the house.
Now here is a picture of my cleaned out dining room with the new table with 1 leaf insert, 4 cane back chairs and
bench
from my sunroom.
View from living room
Another view from living room
View from kitchen (Left side of room)
View from kitchen (right side)
Close up of table
Includes 1 Drawer
I am seriously in love with my "new" dining room. In the year and half that we have lived here, we never ate in the dining room. Sad, I know but I always used the table as a work table for my various
Ana White
projects I have completed (will show more of those later). I didn't want to leave my dining room at all. Sure everything is not the colors I really want now but the room is taking a turn for the good unlike some other unmentionable room. I literally go into the room and light up about it. I will probably change out the French Provincial buffet but for now it works. Here are the other items in the room
My bench I pulled from the sunroom
Front
Back
My chair/bench and flower leather top side table
ugly fabric
French Provincial Buffet/Dresser
sorry no more pics as of now
Bench I built but never finished from Ana White to go with the Modern Farmhouse Table
Some leg action from the chairs
Some arm action
A picture from my cat who wanted to be included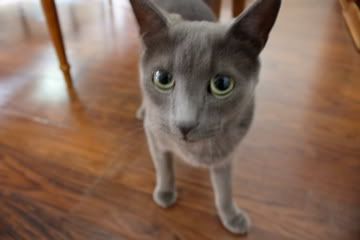 This obviously is only the beginning of many things to do this space. Such as
refinish the hardwood floors underneath cheap IKEA flooring
paint (or stain)/ reupholster most if not all the furniture in the room
install drywall
eventually open kitchen up into dining room
accessorize accessorize accessorize
But for now, I am just happy we finally have a table to eat at together.